November 2013 — Dan Brandt always wanted to be a farmer. Even on this brisk day, after hours of dealing with a malfunctioning corn dryer during peak harvest, his energy is big and positive. Clearly, he loves this quiet place not far from Eyota where he and his wife, Donna Brandt, have lived since 1994.
The farm is on high ground, near the headwaters of the Whitewater River. Six hundred acres stretch away from the Brandt's neat home, rich and largely level. Dan knows each acre, and does his best to minimize erosion and manage for optimal soil health.
"It goes against a farmer's grain to lose soil," he says. "We need it for good crops. Protecting it is part of a sound, ongoing management plan."
For the Brandts, protecting soil has meant maintaining grass waterways in cultivated fields, leaving as much crop residue as possible on the soil, making cover crops part of the rotation, and installing terraces where gullies formed in fields several years ago. Dan also pays attention to nitrates, testing late-season corn stalks to understand how much nitrogen was used, and applying only enough fertilizer to get a good yield. This, he says, is not just a conservation strategy, but a cost-control strategy.
Dan believes Minnesota farmers need to speak up about water and lead by doing. He's now a member of the Whitewater River Farmer-Led Council and a Minnesota Soybean Growers Association director. "My wife and I have achieved the goals we set for ourselves," he says. "so this is a chance to learn from neighbors and give back."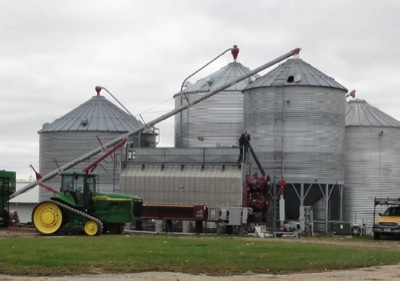 3 Essential Practices
1) Build and maintain grass waterways in field drainage ravines.
2) Incorporate crop residue into soil and make cover crops part of the farm rotation.
3) Use structures like terraces, catchments or biofilters to prevent gully formation and soil erosion.

Good soil protection makes a difference. To connect with Dan and others in our Farmer-Led Council call 507.523-2171, extension 110, or ask Soil & Water Conservation District/NRCS staff to help you make a plan.