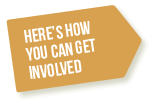 Win-Cres Chapter, Trout Unlimited This group has passionately and persistently restored streams in the watershed including work at Pickwick Creek, Ferguson Creek and Garvin Brook. The group is now restoring habitat and monitoring water quality in Garvin Brook, a trout fishing hot spot. Dedicated volunteers are welcome to help with this project and events such as the group's Take-a-Kid Fishing Day and Veterans Family Picnic & Trout Fishing Extravaganza.
Hiawatha Chapter, Trout Unlimited (TU) Since the late 1970's, Hiawatha has focused on completing miles of trout habitat and stream improvement including extensive work on the Middle Branch of the Whitewater River, Trout Run Creek, Mill Creek and West Indian Creek, with additional work on Hay Creek, Pickwick Creek and Wisel Creek. Sponsored events include a kids and seniors fishing day, angling for military veterans, and the Driftless Rendezvous at Whitewater State Park — an opportunity for other TU chapters and fly fishers in the state to get together, share skills, and teach basic fly fishing skills and techniques.
Izaak Walton League of America, Wil Dilg Chapter  The Izaak Walton League was established in 1922 to protect natural resources during the industrial boom after World War I. Of 250 chapters nationwide ours is the first, established to fight for the National Fish & Wildlife Refuge in the 1920s. The group is still engaged in water issues on the Mississippi, with current focus on youth education and water issues relative to drilling and mining. The group meets at the Monarch Public House in Fountain City on the third Wednesday of each month at 6:30 p.m, with members from both sides of the Mississippi.
Add opportunities for action to this list! Send information to: connect@mississippi-winonawatershed.org.