February 2014 — Shortly after Allyn Heim's parents married and moved to this farm near St. Charles, Minnesota in the early 1950s, his father Tom and grandfather Norman built a pond. Tom could see water carry soil from fields into deep draws draining to the Whitewater River and he didn't want it to continue.
"They built this pond in 1959," says Heim. "Dad farmed so it wouldn't fill up with soil, and we cleaned it out for the first time in 2004, after 51 years."
Allyn Heim estimates three to four thousand tons of soil were excavated and replaced on fields that year, soil that would have accumulated in the river valley long ago if not captured.
Heim now operates the farm, which has five ponds, three sediment-control basins and a network of contour strips, buffer strips and grass waterways. In every direction, mixed cover crops hold soil on 453 tillable acres, now planted and harvested primarily by a neighbor who rents and collaborates with Heim, who also builds log homes.
On a chilly fall afternoon we ride the woods' edge to a distant corner of the farm, where construction of a new pond is nearly complete. Heim pulls up above a wide buffer strip and steeply sloped forest, near a freshly-graded sediment control basin.
"This year we moved 300 tons of soil back to the fields from this basin," says Heim. "It was an unusually wet year and the waterway above it was new. After one big rain, it was full."
We pass apple trees gone wild, wildlife feeding plots, a tiny A-frame cabin built by Al and his dad when he was in high school, more ponds and a well-loved cabin built by Al and his wife Valerie after looking at lake property up north and wondering, 'Why?'
At the site of the new pond a bulldozer smooths a long berm of soil that will soon capture water from fields above. The berm is designed to consistently hold eight feet of water. The sediment control basin we saw earlier is more like a rain garden; it holds water only a short time, to slow drainage and capture sediment.
Al says the pond-building project is not complex, but takes engineering expertise, big machines, and the will to make it happen. For this project he worked with Natural Resources Conservation Service staff in Winona and Olmsted Counties to develop plans and procure partial  funding.
On this final day of construction Heim is satisfied. By summer 2014 the pond will fill, vegetation will grow on exposed soil, and replaced topsoil on the hill above will produce crops. And when it rains, less soil, nitrate and phosphorus will flow to the river and state park swimming beach below.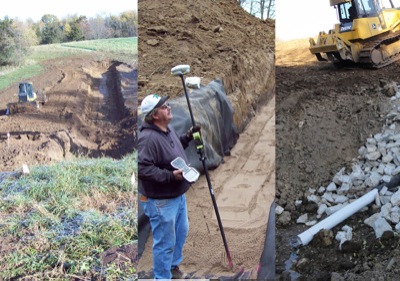 3 Views Of Pond Construction In Progress
1) In the fold of two hills where field meets woods, a core trench is dug. On a nearby rise—the "barrow hill—topsoil is scraped aside and clay moved to fill the core trench and a mound that becomes the dam. Behind the dam, topsoil is spread over the berm to support future vegetation.
2) Perpendicular to the dam, a trench is dug as a drainage culvert. It is partially lined to prevent erosion.
3) An overflow drainage pipe is installed and covered with rock. A bulldozer shapes the back slope of the dam to complete the project.
Asked why he builds and maintains ponds and grassed waterways, Al Heim says simply, "I care about the environment." He knows his land, and the erosion control practices he uses are one aspect of a farm management plan that serves people, wildlife and agriculture so they thrive together.