The "two-story" farm near Rollingstone owned by Carlus and Carolyn Dingfelder sprawls above and below steep bluffs with breathtaking views. Carlus's parents bought the land in 1945 to establish a dairy herd and raise registered holsteins. Carlus and brother, Otto, grew that business to include global sales of genetic stock and embryos. Now, driven by the skills and interests of the Dingfelder's adult children Steven, Carlus, Dinel and son-in-law Joe Pond, the family has refocused to meet new business and conservation goals.
Central to the shift is Olvalde Farmhouse Brewery, established at the farm's home place in 2009. The red building surrounded by rhubarb, hops, hyssop and other brewing herbs sources brewmaster Joe Pond's popular Ode to a Russion Shipwright, Auroch's Horn, and Brynhildr's Gift Ales. Barley produced in the family fields is used in the Ales; a proposed malt house will further utilize the crop next year.
The Dingfelders put 17 acres of marginal crop land into the federal Conservation Reserve Program in 2003. Now deep-rooted native plants, earthen berms and grass waterways minimize erosion from fields and hillsides. Those areas provide habitat for birds, pollinators, deer and other wildlife. And, according to Carlus, they haven't reduced farm income but instead, improved quality of life. "Trout season opened this year," he says, "and the stream coming off that land was high, but not as muddy as it used to be. It's encouraging to see we can impact the land."
Carolyn and Carlus know sons Steven and Carlus will continue these practices and are working toward joint family management of the farm. Joe and Dinel are developing community aspects of the ale business. And all are enjoying the beers. Says Carlus, "People don't expect the flavors—the delight! It's fun and different."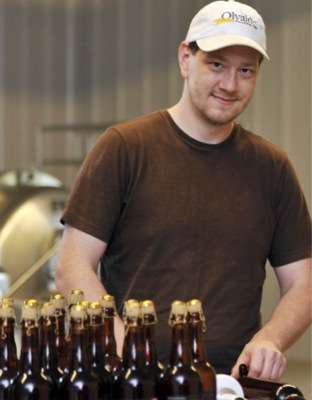 8 Local Ale Ingredients
Many Olvalde ale ingredients are grown on the farm, including:
• Spruce tips
• Juniper berries
• Barley
• Rhubarb
• Hops
• Hyssop
• Rosehips
• Mugwort
This family is reducing erosion and nutrient leaching with berms, grassed waterways and no-till farming, putting perennials on marginal land, and creating ways for four families to earn a living on 134 acres.