April 2013 — Tired of the stress of off-farm jobs, Brad and Shelley Schrandt took bold steps in 2008 to redesign their farm's business, field and dairy practices. The result is a profitable operation and a lifestyle that suits them both, one they want for daughters Grace and Callie.
Brad and Shelley aim for a "closed system" operation in which good milk yields and earnings result from a cycle focused on growing what's needed to feed the herd on the farm, incorporating manure and rotational crop residue into 230 tillable acres to keep it rich (without the expense of purchased fertilizer input), and giving the wealth of soil nutrients they've cultivated back to the cows for milk production. The goal: only milk leaves the farm.
Shelley and Brad designed this system to support their family, but their practices also bode well for water and people downstream. When they seed into long-established contour structures on their rolling land, manage fields in a one year corn/three years new seeding and hay/grazing cycle, sustain plant diversity in grazed fields, and enrich their soil with attention to nitrogen leaching, less soil and nitrogen run off the land and into streams and ground water.
The Schrandts accomplish goals on a foundation of relationships. Lee and Carol Persons, Shelley's parents, made it possible for them to take over the farm, and work with them. Carmene and Dale Pangrac and Andy and Kim Olson of Lewiston taught them to build and manage 80 to 90 acres of rotationally grazed pasture. Land Stewardship Project's Farm Beginnings program helped them implement business and operational strategies. And an annual contract and price guarantee from Westby Creamery makes planning possible. "I don't see (some of these folks) as often as I'd like," says Brad, "but they're there, and I can pick up the phone any time."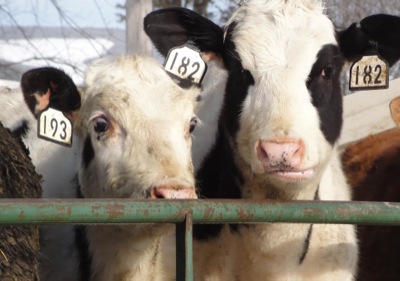 3 Sustaining Practices
1) Test and build soil health to reduce the need for purchased fertilizer and the likelihood of nitrogen runoff.
2) Four-year corn/new seeding/hay/grazing cycle improves fertility, keeps soil in place.
3)  Winter cover crop provides added forage for cattle, which are an essential part of the farming system.
Unnerving transitions were part of converting row cropped fields to pasture; growing a Holstein, Jersey and Hostein-Ayrshire herd and waiting for a first organic milk contract. But as Brad and Shelley step up for a quick photo, they look at home with their work and each other. With a quick wave, they're off to take on the day's tasks. A new raised milking platform goes in tomorrow.